Vanuatu Agriculture Sector Policy - 2016 to 2030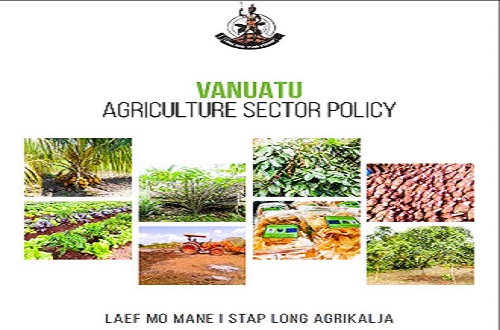 The Vanuatu Agriculture Sector is grateful to many partners for their valuable contributions toward the development of this Agriculture Sector Policy. Their financial, technical and in-kind inputs have ensured that this policy will serve as a realistic and well supported road map for all stakeholders within the sector for the next 10 years. First and foremost is the assistance of key development partners namely UNDP's Pacific Risk Resilience Programme, the SPC – GIZ Coping with Climate Change in the Pacific Islands Region Program, the SPC – USAID Climate Change Food Security Programme, and the World Bank IRCCNH project. They, alongside the Department of Agriculture and Rural Development, provided critical financial, technical and logistical support for the policy consultations, drafting and printing of the policy document.
The important contributions of all stakeholders especially Farmers, Producers, Processors, Exporters, Government Agencies, Provincial Authorities, the Civil Societies, NGOs and others are gratefully acknowledged. Acknowledgement is accorded to the former Director of Agriculture Mr. Livo Mele for the oversight and guidance in developing this policy, Ms. Peta Turnbull for collating and compiling consultation feedback, Dr. Christopher Bartlett for technical support, and to Mr. Roy Pakoasongi for policy drafting. Finally the contribution of all Department of Agriculture and Rural Development (DARD) and Ministry of Agriculture, Livestock, Forestry, Fisheries, and Biosecurity (MALFFB) staff in coordinating and finalizing the policy document is applauded.
Click here to view the full policy