Talemaot Nius Leta - Septemba 2016
---
Talemoat Nius Leta
On the 19th of July 2016, the distribution team travelled on MV Kalyara from Santo to Shepherds islands and Tafea province to distribute coconut seed nuts and root crops planting materials.
The core objectives of this program are to distribute improved planting materials of root crops, island cabbages, pineap-ple and peanuts and coconut seeds to the islands of Tafea and Shepherds to ensure that every household has access to sufficient planting material to rebuild their food security and to better improve their livelihoods.
The islands that benefitted from this activity are Erromango (Port-Narvin & Dillions bay), Tanna (Multiplication plot at Isangle Agriculture Station), Aneityum (Analcauhat & Port- Patrick), Futuna (Herold Bay & Mission Bay), Aniwa, Tongoariki, Buninga, Emae, Makira, Mataso and Tongoa island.
The total numbers of planting materials distributed to Tafea Province was 40,450. Then the total number of planting materials distributed to Shepherds Island was 28,847 .Firstly, there were 5,217 manioc planting materials, with 580 dis-tributed to Tongoa, 1,800 distributed to Tongoariki, 759 distributed to Buninga, 1,200 distributed to Emae, 738 distrib-uted to Makira and 140 distributed Mataso Island. Also there was a total of 5,325 pineapple planting materials, where 1,925 distributed to Tongoa and 3,400 distributed to Emae island. Five (5) bags of peanuts were also distributed to Emae island. Moreover, there were also coconut seed nuts of improved Vanuatu Tall variety of a total of 54,600 distrib-uted to Shefa province and Tafea province for both replanting and food security. The total of 48,560 were distributed purposely for replanting whilst 23,720 seed nuts were distributed to Shefa Province and 24,840 seed nuts distributed to Tafea Province. Then the total of 6,040 was distributed purposely for food security with 3,000 seed nuts distributed to Shefa Province and 3,040 seed nuts distributed to Tafea Province.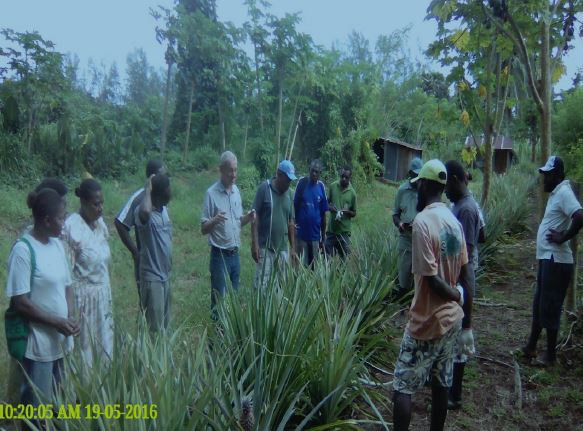 Click here to access the entire news letter